Customer service
customers are viewing this product
STAND UP, ADOPT THE RIGHT POSTURE AND WALK WITH YOUR HEAD UP!
Do you suffer from sagging and curvature, upper and lower shoulder pain, neck and back pain? Back Posture Corrector is a simple, non-surgical way to comfortably correct and improve your poor posture every day. Our lightweight posture correction brace is perfect for all men and women who want to say goodbye to back, neck, shoulder or collarbone pain.
AN INNOVATIVE DESIGN FOR OPTIMAL COMFORT
The postural correction bra is made of very soft composite fabric and nylon tape, and breathable holes are adopted in the back and shoulder straps. The heat dissipation and permeability have been improved to optimize the wearing comfort of this corrector. The necessary and optimal conditions to help relieve your pain and realign your back muscles with confidence.
A FULLY ADJUSTABLE BACK ORTHOSIS
The double strap system allows you to easily adjust the orthosis to your liking and comfortably adapts to your body shape to ensure maximum support for perfect posture.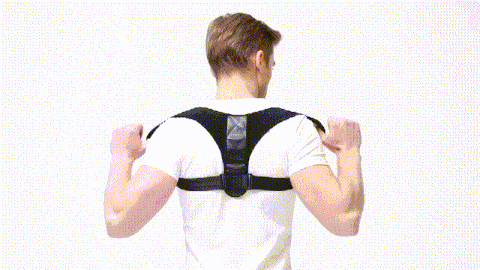 THE CORRECTOR IS APPLICABLE TO ALMOST ANY ENVIRONMENT
Its light weight allows you to use it at home, in the office, in the gym, in the yoga room or outdoors. It can be worn directly on clothes, the skin irritation would not be caused by the backing band. It's never too early or too late to start correcting your posture and protecting your back!
HOW TO MAXIMIZE THE BENEFITS OF THE POSTURE CORRECTOR?
The support corset should be worn daily for up to 2 hours maximum. The first 2 weeks your back and shoulders will slowly adjust to the orthosis. And the next month, your muscles will remember the correct posture. Avoid over-tightening the corset, as this will cause excessive tension. Wearing posture support for a long time is never a good idea. It should only be used as a training tool to help regain ideal posture.
BENEFITS
✅
 RELIEVE YOUR BACK IN 21 DAYS
✅ EASY TO WEAR
✅ EASY TO ADJUST
✅
 SUSTAINABLY IMPROVES YOUR POSTURE
✅
 STRENGTHENS YOUR DEEP MUSCLES
✅ REDUCE FATIGUE AND PAIN
SPECIFICATIONS
Black color
Material: Neoprene + Nylon
Size: S, M, L, XL